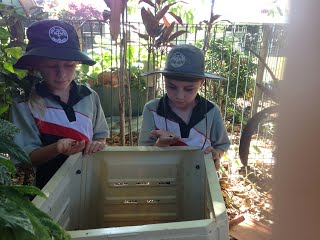 The School has a large and a small earthworm farm that are both fed from fruit and vegetable scraps from the tuck shop, staffroom and the lunch sheds.
Year 3 are in charge of looking after the earthworms.
They collect the scraps from the tuck shop and from the lunch sheds and deposit them in the farms.
The Year 3 students also collect earthworm juice from the farm and sell it to people who want some rich fertiliser for their plants.
Earthworm juice is so nutrient rich that it has to be watered down before it is used. It is especially good for potted plants but can also be used on garden plants.
What do earthworms like?
They like vegetables and fruit.
They like moist soil.
What don't they like?
They don't like too much water.
They don't like fishing hooks.
They don't like being chopped in half.
They don't like citrus fruits, because they make the soil acidic.