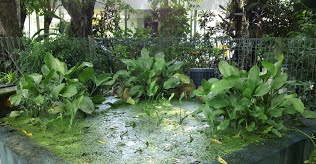 The Holy Cross Parents and Friends Association has played a large part in helping the school to look after the animals that inhabit the school environment.
Holy Cross is lucky enough to have a frog pond and butterfly gardens in the school grounds – all provided by the P & F Association.
FROG POND
The frog pond has been constructed so that the sides are high enough not to allow toads to enter. The frogs can climb into the pond and lay their eggs without the threat of toads. The Frog Pond also has guppies in the water so that mosquito larvae do not live very long when they are deposited in the pond. The frog pond is a wonderful area for the younger children in the school to look at the life cycle of frogs.
BUTTERFLY GARDENS
The School has two butterfly gardens. A large garden is situated on the mound of the oval with many butterfly host trees and shrubs. These trees were planted in order to attract butterflies to lay their eggs and eat the nectar from the flowers. The other garden is a small one in the quadrangle between Blocks A and B. This garden contains a Brown Birch Tree that is the host tree for the Australian Rustic butterfly. This also is a great learning area for children in the school to see a lifecycle.